Marcin Szczuka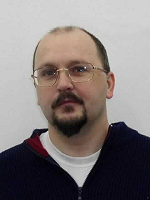 Dr Marcin Szczuka
Institute of Mathematics, The University of Warsaw
Banacha 2, 02-097 Warsaw, Poland
szczuka@mimuw.edu.pl
Short Bio:
Marcin Szczuka received his M. Sc. in Mathematics and Ph.D. in Computer Science (with honours) in 1995 and 2000, respectively, from the From the Faculty of Mathematics, Informatics and Mechanics, the University of Warsaw, Poland. Since 1995 he is working as researcher at the University of Warsaw. He has worked as a visiting scholar in several higher education institutions in Japan, Sweden, and Canada. He authored over 30 research papers, edited several books and conference proceedings. He is a member of editorial boards of several international journals. He organised and chaired several international workshops, conferences and seminars. In the past he was involved in several national and international research projects, including research programmes of the European Union. Currently he is involved in the  national project aiming at establishment of repository of information and knowledge for the Polish science and technology areas.
The main research interests of Marcin Szczuka are concerned with complex decision support systems construction based on knowledge discovery and interactions, elements of
granular computing and rough set theory, information retrieval, as well as knowledge discovery and knowledge utilisation for heterogeneous, complex data sources.